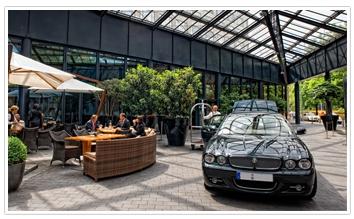 The lifestyle Grand Hotel Esplanade Berlin is one of the most elegant structures of the capital. The hotel boasts a refined design and high quality services and comfort, which assure you an unforgettable stay in this marvellous city. The structure is an optimal choice both for business and pleasure trips, thanks to its new variety of Berlin hotel accommodations.

The Grand Hotel Esplanade Berlin lies in an excellent situation: it is located in the centre of the city's cultural district and close to the first-class and most popular art museums, attractions, theatres, restaurants and shops.

The structure is situated between the Tiergarten and the picturesque canal of the city.

In addition, in the neighbourhood of the hotel there are the cosmopolitan Kurfürstendamman, the train station (far just 10 minutes), and convenient to two Berlin area airports.

This splendid hotel is the perfect place for your stay in Berlin, thanks to its relaxing ambiences and comfortable accommodations. The structure has at its disposal 394 elegant and comfy rooms, including 40 exclusive suites, completely furnished with the best comfort and facilities.

As concerns the appointment with the gastronomy, at the Grand Hotel Esplanade Berlin our guests can choose among a big selection of the best Berlin restaurants. The lobby-level Berlin restaurant Ellipse Lounge is perfect for those who want to taste refined dishes, prepared with care by our chefs using high quality products.

If you prefer to spend a nice evening with your friends sipping good cocktail, the Harry's New-York Bar is indisputably the ideal place for you.
If you want to taste a typical German dish or drink, we suggest you to visit the Eck Restaurant.

This marvellous structure is furnished with a Triangle Health & Spa and a well equipped fitness centre, in order to give you the possibility to keep fit and reinvigorate your sense and body.

If you have to organize business meetings, congresses or special events, the Grand Hotel Esplanade Berlin is the ideal choice for you. The hotel is provided with a new and functional conference centre. The congress centre can receive up to 450 people. Here your events will enjoy the charm and energy of Berlin and the elegant design of our hotel, in order to make them unforgettable and perfect.

Starting from 1st April 2012 the hotel is completely non smoking.

The swimming pool will be close to the guests from saturday, 13th of January 2013 to saturday, 19th of January 2013.